Products from Palnatoke

One Thursday evening in 2002, at a party for roleplayers, SFX specialist Kristoffer Benzon was shown an English-produced latex sword. Five minutes later, he proclaimed to that he could do it better, and that if this was the standard, he would create the best latex weapons the world had seen. I remember the evening well - since I was there and was one of those who laughed the hardest. I stopped laughing years ago and instead starting buying - and I wasn't the only one. Because what began as a dream in Kristoffer's head soon turned into the business venture that is Palnatoke, and before long Kristoffer and his partner in dreams Kim Fenger were producing swords from their workshop at Krimsvej. And even though the world of roleplaying has evolved immensely since 2002, Palnatoke has never once left its place at the front of the field when it comes to producing latex weapons.
No results were found for the filter!

Silicone Oil
This Silicone Oil spray bottle is the same kind used in house by Palnatoke for more than 15 years and is a highly concentrated form of the spray/aerosol forms available from other brands To use : Put on disposable gloves. Spray a few...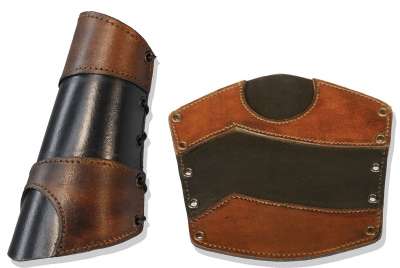 Warrior Bracers
Whether you're a LARPer or just someone that enjoys good defensive fashion, you're going to need some leather bracers. Palnatoke bracers are stylish, hardy, and comfortable to wear.