Products from Ateliers Nemesis

Ateliers Nemesis have specialized for over 10 years in the design and manufacture of props, costumes, creatures, sets and promotional products for film, theater, corporate, as well as various types of immersive entertainment activities. Their reputation for excellence has allowed them to gain worldwide recognition and are featured in many major films and TV shows. Their high-end weapons for recreational combat are sold and distributed in over a dozen countries. The composite materials expertise, as well as the passion of the challenge they have to realize and design many costumes, creatures, props and puppets from a myriad of different backgrounds. Acrobatic Performance with waterfalls, through to large-scale spectacles of excess realism or fantasy: the approach Ateliers Nemesis is to design products to meet the demands of each and draw your dreams into reality. From sketch to completion, they offer a flexible means of production which ensures the development of a more rapid production for almost all props and costumes to meet the specific needs of clients.
No results were found for the filter!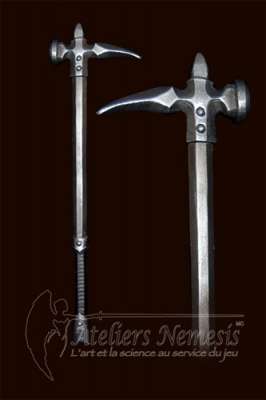 Warhammer
This historically inspired model can stand as a parrying weapon or in combination with a shield. Like all our Bludgeoning weapons, this model includes: Resisting, flexible and secure protuberances Sturdy and flexible reinforcements along...