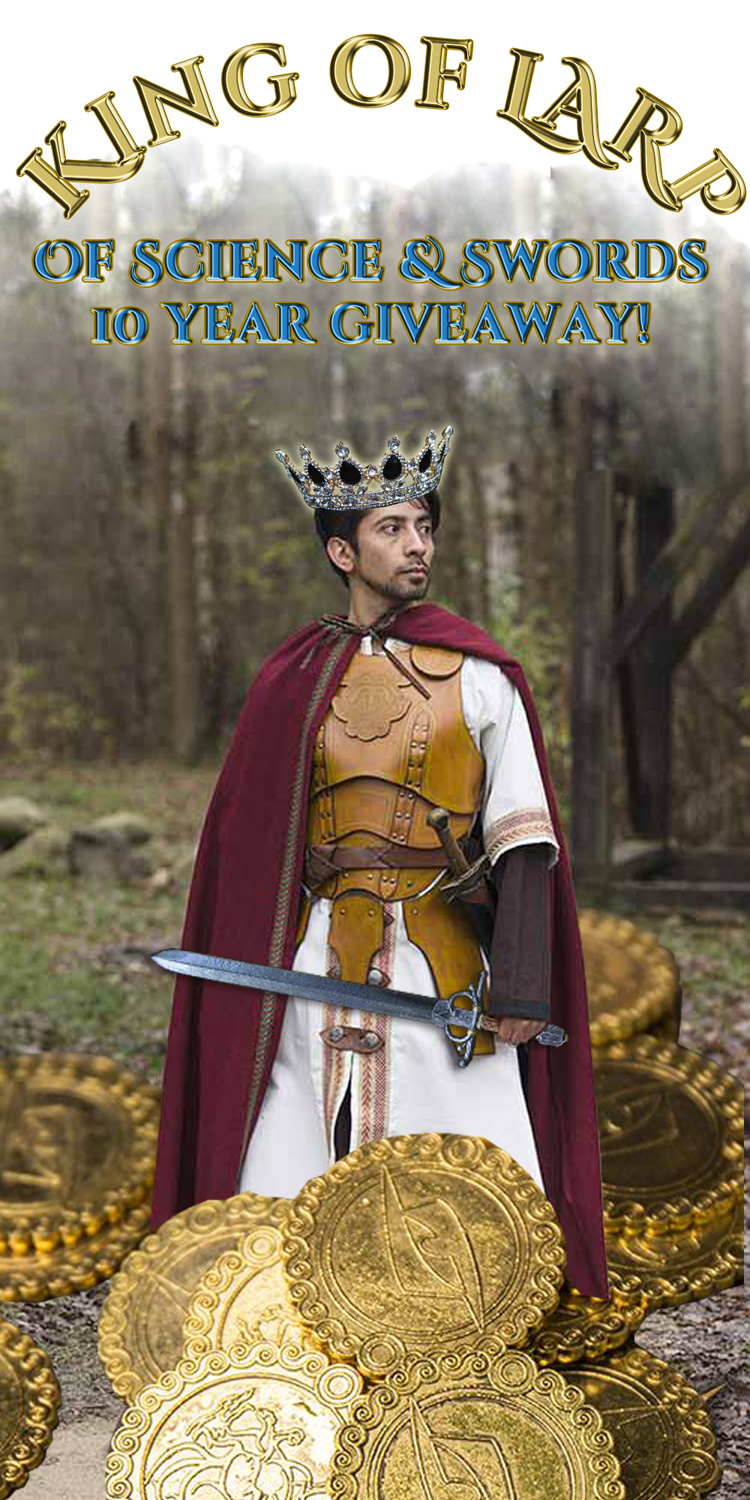 It's our 10 year anniversary and with the traditional gift being tin, we've decided to help one of you become the tinpot dictator you've always wanted to be:
THE KING OF LARP!
For the month of July eligible purchases* with Of Science & Swords goes into the draw to win the following:
King Armour Set, courtesy of Epic Armoury Australia, consisting of a woolen cloak, fine linen tunic, and leather armour;
Hybrid Noble Sword, courtesy of Epic Armoury Australia;
A crown;
A bag of golden coins to hire your guards and/or fling at peasant, depending on the type of tinpot dictator you turn out to be.
*TERMS & CONDITIONS:
Eligible purchases are purchases in excess of AUD$100 (GST inc) made with Simulated Reality Pty Ltd trading as Of Science & Swords for retail customers only;

All payments must be made in full prior to the cessation of competion period to maintain eligibility;

Purchase total eligible entry is for purchases of goods from merchant and NOT inclusive of further shipping, freight, insurance, or other charges;

All eligible purchases must be made between July 1st, 00:01AM, and July 31st, 23:59PM;

Wholesale and other bulk purchasing accounts (i.e. "Warband" accounts) are not eligible to enter the draw;

Prizes may not be exchanged for other/further goods or cash;

Shipping of prize within Australia only is included. If the winner is outside of this of Australia's recognised territory they will be asked to pay for shipping or to decline to the prize.

Draw will be selected via random number generator using eligible purchase order numbers;

Prize consists of: 1x Epic Armoury King Armour Deal size medium (#IF-800722M) to a value of AUD$1,060.95, 1x Epic Armoury 85cm Hybrid Noble Sword (#442415) to a value of AUD$170.95, 1x Gold coloured, black stone set 13.5cm diameter crown (#JCR13MGBK) to the value of $49.95, 60x Epic Armoury Gold Dragon coins (#503103) to the value of AUD$60, and uninsured courier delivery. Total prize pool value is AUD$1,341.85 (inc GST) +PPH;

In accordance with Victorian Trade Promotion Lotteries legislation, the winner's name will be published.